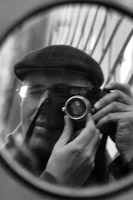 Simon Griffee
Like many fellow human beings I communicate in one of our oldest languages, drawing, with one of our great tools, photography. Photographing increases my capacity to feel and notice the world and time I live in.
Biography
Born in the South American continent of planet Earth. Travels and works. Continues to work and travel. Currently based in Rome in the Italic Peninsula.
Prints & Commissioned Work
Almost all images found on SimonGriffee.com including those in Notebook and Stories sections are available as exhibition-quality prints. Prints are made of carbon pigment ink on cotton paper and signed in verso. Editioned prints are also available. Please contact me for prices noting which image you are interested in.
To hire me for commissioned work please send me a message.
Publications
The Stories and Secrets of Fez - BBC Travel
Workshop Paris #3 (6 photographs) - Magnum Photos
Award
2008 - 1st Place, Premio di Fotografia Estemporanea, Bracciano, Italy.
Solo Exhibition
2008 - Libero Pensiero, I Granai, Rome, Italy.
Group Exhibition
2013 - In The Cave, The Room Gallery, Rome, Italy.
Copyright
Photographs are copyright by Simon Griffee. All rights reserved.