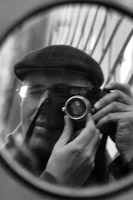 Simon Griffee
Photography helps me look inside.
It keeps me sane.
Biography
Born in the South American continent. Travels, works. Continues to work and travel. Currently based in Rome, Italy.
Award
2008 · 1st Place, Premio di Fotografia Estemporanea, Bracciano, Italy
Solo Exhibition
2008 · I Granai, Rome, Italy
Group Exhibition
2013 · The Room Gallery, Rome, Italy
Photo & Design Work
Available for photography work: contact me.
Also available for web and graphic design work.
Copyright
Photographs are copyright by Simon Griffee. You can publish any of the work on your own website as long as you ask me and I say 'Okay!'. If you are or were a member of Pink Floyd you can go ahead and use anything here without asking!
Thank you for visiting, dear reader.
Simon